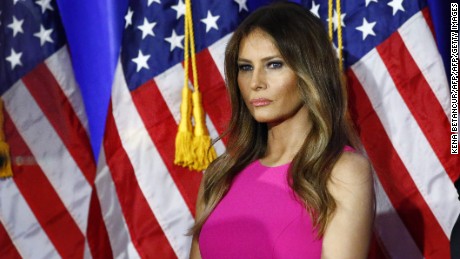 (CNN)When the New York Post published several nude photos of Melania Trump this week, it wasn't just her body that was exposed — the shots also revealed a potential discrepancy in her immigration history.
According to Melania Trump, the story of her American arrival is quite simple: "I came to the United States, to New York, in 1996," she told CNN's Anderson Cooper on February 29, 2016.
But Melania posed for those photos, which appeared in the French magazine Max, during a shoot in New York City in 1995 when she was 25 and known as "Melania K," according to Bojan Pozar, the author of the biography "Melania Trump: The Inside Story."
That year is possibly the key to whether or not Melania, now 46, broke immigration law by working in the US without the proper visa.
Melania, who is from Slovenia, has said she came to the United States "the right way," on a visa.
Regardless, Michael Wildes, an immigration attorney who works with the Miss Universe pageant and the Trump Organization, said Melania's upstanding character enabled her to become a citizen in 2006, and any visa problems in the mid-1990s would not have prevented her from gaining citizenship.
"The main element of determining citizenship is a person's character, and that has been beyond reproach since 2006," Wildes said. "This issue is more political than legal."
Read more: http://www.cnn.com/2016/08/05/politics/melania-trump-immigration-visa/index.html